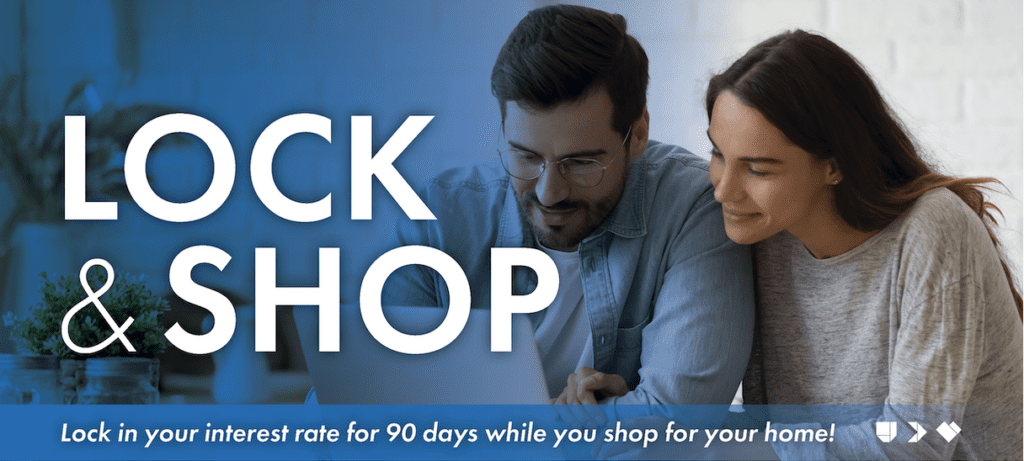 Lock And Shop
We understand that life is busy and when you're shopping for your dream home,the last thing you need to worry about are rising rates!.
SHOP FOR A HOME WITH CONFIDENCE
Take advantage of lower rates while you can
Prequalify and lock your rate for 90 days while you shop for your dream home
Available for purchase with conventional, FHA, and VA loans
Stay informed about your loan status every step of the way
CONTACT ONE OF OUR LOAN OFFICERS TO LEARN MORE!
Pricing on all loans is subject to change if there are changes to the loan parameters after the rate is locked-in. If the lock expiration date falls on a weekend or holiday, the lock expiration date is the next business day. Lock and Shop Program will lock your initial rate for up to 90 days. No property address is required for this program. Not a commitment to lend. Borrower must meet qualitication criteriaEqual Housing Lender.

21-Day Close Guarantee
REQUIREMENTS AND CONDITIONS
Borrower(s) must be fully prequalified.
This includes verified credit, income, assets,
cash for closing, and completed automated
under writing approval
Appraisal is received at least 5 calendar days
prior to closing, value is met, and the appraisal
is "as is" and not subject to completion
of any repairs
All property title documents including survey
are received at least 5 calendar days prior
to closing with no unresolved issues
Property must not have multiple prior insurance
claims that cause difficulty in finding an insurance
provider
Buyer must agree to submit all requested items
for underwriting within 24 hours of our request
This guarantee is only valid for single family,
owner-occupied residences and for conventional,
FHA, and VA loan programs
The buyer, seller, or title company does
not extend the closing date beyond the 21-Day
Guarantee due to scheduling issues
CONTACT ONE OF OUR LOAN OFFICERS TO LEARN MORE!
Directions Home Loan will credit to seller $250 per day for a maximum of $2,500 (if 10 or more days late), if the transaction does not close within 21 days. The 21-Day Guarantee will begin from the day the fully executed and receipted contract has been received by a Directions Home Loan team member. This 21-Day Close Guarantee is only valid for primary residence transactions that follow the abovementioned conditions and also include: the buyer cannot change loan programs and/ or any terms after application date; buyer is not applying for purchase of a rural property, unique property, non-traditional property, a bond loan, or a brokered loan; delays due to natural disasters or catastrophic events. This certificate is not a final loan approval and is subject full underwriting review of loan file. Not all buyers will qualify for this 21-Day Guarantee. This promotion expires 12/31 / 2022. Conditions, rates, and programs are subject to change without notice. All loan programs are subject to credit and property approval. Other restrictions may apply. Not a commitment to lend. Borrower must meet qualification criteria. Equal Housing Lender.